On this special day, as we celebrate the birthday of Mahendra Singh Dhoni, it is fitting to pay tribute to one of the most iconic figures in the history of cricket. Fondly known as "Captain Cool," Dhoni's journey has been nothing short of extraordinary. From his humble beginnings in Ranchi to leading the Indian cricket team to numerous victories, Dhoni's contribution to the game is unparalleled.
We pay tribute to his exceptional contribution to cricket. He has left an indelible mark on the sport with his exemplary leadership, incredible finishing abilities, and innovative approach to the game. Let us explore the remarkable aspects of his career and the indelible mark he has left on cricket.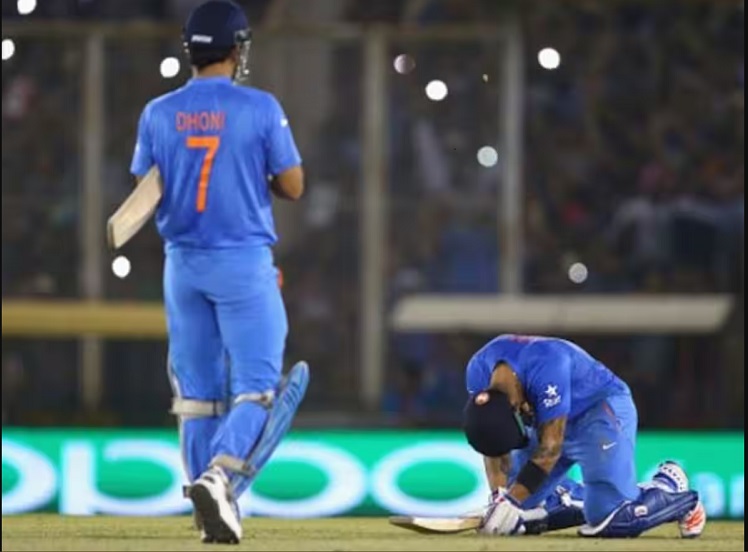 A Prolific Leader
Dhoni's impact on the cricketing world extends beyond his exceptional skills as a player. As the captain of the Indian cricket team, he led by example, demonstrating remarkable leadership qualities. Under his captaincy, India achieved several milestones, including the historic victory in the 2007 ICC World Twenty20, the 2010 and 2016 Asia Cups, and most notably, the crowning glory of winning the 2011 ICC Cricket World Cup after a 28-year wait. Dhoni's calm and composed demeanor on the field, combined with his astute decision-making, made him an exceptional leader.
The Finisher
One of Dhoni's defining traits was his ability to finish matches with a flourish. He revolutionized the role of a finisher in limited-overs cricket. With his exceptional batting skills and an innate understanding of the game, Dhoni often guided India to victory in nail-biting encounters. His unforgettable six to win the 2011 World Cup final will forever be etched in the memories of cricket fans worldwide. Dhoni's composure under pressure and his unparalleled finishing skills made him a force to be reckoned with.
The Wicketkeeper-Batsman Extraordinaire
Dhoni's prowess behind the stumps was as remarkable as his batting. His lightning-fast glovework and sharp cricketing acumen elevated him to the status of one of the best wicketkeeper-batsmen in the world. He holds several records, including the most dismissals by an Indian wicketkeeper across all formats. Dhoni's ability to read the game, make split-second decisions, and execute lightning-quick stumpings set new benchmarks for wicket-keepers around the globe.
The Helicopter Shot and Innovation
Dhoni's innovative approach to the game was evident in his trademark "helicopter shot." This audacious stroke, which involved a flick of the wrists to send the ball soaring over the boundary, showcased his unconventional yet effective style of batting. Dhoni's ability to adapt to different match situations and his innovative strokeplay made him a true trendsetter in the world of cricket.
An Inspiration and Role Model
Beyond his cricketing achievements, Dhoni's humble and down-to-earth personality earned him admiration and respect from fans and fellow players alike. His resilience, hard work, and determination to succeed serve as an inspiration to aspiring cricketers worldwide. Dhoni's leadership qualities and his ability to remain calm and composed under pressure make him a role model not only in cricket but in life as well.
Mahendra Singh Dhoni, popularly known as Captain Cool, has undoubtedly etched his name in the annals of cricket history as one of the most successful leaders of all time. His illustrious career is studded with an impressive collection of trophies, both at the international level in ICC tournaments and in the Indian Premier League (IPL). Let's take a moment to appreciate Dhoni's remarkable achievements as a leader, guiding his teams to numerous victories and cementing his status as a true champion.
ICC Trophies: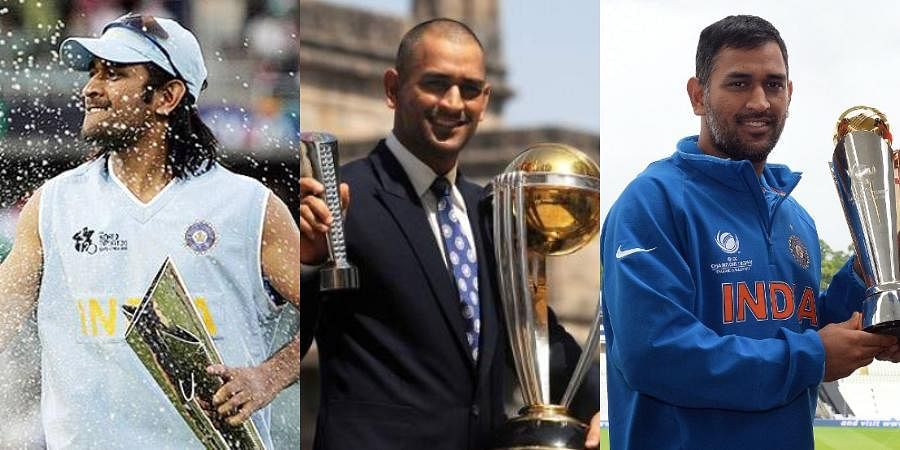 Dhoni's journey as a leader in ICC tournaments has been nothing short of extraordinary. With his astute captaincy and unwavering determination, he led the Indian cricket team to unprecedented success on the global stage.
ICC World Twenty20, 2007:
Dhoni's captaincy career took off with a bang as he led the Indian team to victory in the inaugural ICC World Twenty20 held in South Africa. It was a momentous occasion for Indian cricket, as Dhoni inspired his team to rise above all expectations and clinch the coveted trophy. Under his leadership, Team India played fearlessly, displaying exceptional skills and nerves of steel to lift the trophy.
ICC Cricket World Cup, 2011:
One of the defining moments in Indian cricket history came under Dhoni's captaincy when the Indian team triumphed in the 2011 ICC Cricket World Cup. The 28-year wait for the prestigious title finally came to an end as Dhoni masterminded a memorable campaign. His unbeaten innings of 91 in the final against Sri Lanka will forever be etched in the memories of cricket enthusiasts worldwide. Dhoni's calm and composed leadership guided India to glory, and the nation celebrated its second World Cup triumph.
ICC Champions Trophy, 2013:
Dhoni's legacy as a leader reached new heights when he guided India to victory in the 2013 ICC Champions Trophy held in England and Wales. Demonstrating his tactical brilliance, Dhoni orchestrated a remarkable campaign, leading his team to the title with unbeaten performances throughout the tournament. Under his guidance, Team India showcased their supremacy and emerged as deserving champions.
IPL Trophies:
Dhoni's success extended beyond international cricket into the glitzy world of the Indian Premier League. As the captain of the Chennai Super Kings (CSK), he built an extraordinary legacy, steering his team to multiple IPL triumphs.
IPL Champions, 2010:
In the third edition of the IPL, Dhoni's leadership propelled CSK to their maiden title. With his composed presence and exemplary batting performances, Dhoni inspired his team to deliver consistent performances throughout the tournament. The victory was a testament to Dhoni's astute captaincy and ability to extract the best out of his players.
IPL Champions, 2011:
Continuing their winning spree, Dhoni and CSK clinched the IPL trophy once again in the following year. Dhoni's tactical acumen and ability to handle pressure situations played a crucial role in CSK's successful campaign. His captaincy skills were on full display as CSK emerged as the champions for the second consecutive year.
IPL Champions, 2018:
After a brief hiatus from the IPL due to suspension, CSK made a resounding comeback under Dhoni's leadership in 2018. Guiding a team filled with experienced players, Dhoni orchestrated a remarkable campaign that culminated in CSK lifting the coveted IPL trophy for the third time. Dhoni's calm demeanor and his ability to make decisive decisions were key factors in CSK's success.
IPL Champions, 2021:
In the IPL 2021 final, Chennai Super Kings (CSK) showcased their dominance once again, reaching their ninth final in the history of the tournament. This incredible achievement speaks volumes about the consistency and competitive spirit of the team.
Led by the astute leadership of MS Dhoni, CSK displayed their trademark brand of cricket, combining skill, strategy, and unwavering determination. With a stellar performance in the final, CSK emerged victorious, clinching their fourth IPL title.
Dhoni's guidance and tactical acumen played a crucial role in the team's success, as he masterfully marshaled his troops to deliver their best on the grandest stage. CSK's triumph in the IPL 2021 final not only added another trophy to their collection but also solidified their legacy as one of the most successful franchises in IPL history.
IPL Champions, 2023:
Despite facing setbacks in the 2020 and 2022 editions of the IPL, where Chennai Super Kings (CSK) finished seventh and ninth, respectively, MS Dhoni's leadership proved resilient and determined. These editions, played in neutral venues, presented unique challenges for the team. However, Dhoni's unwavering belief in his players and his ability to adapt to changing circumstances became evident in the IPL 2023 season.
CSK, under Dhoni's astute captaincy, roared back to the forefront, displaying their trademark consistency and tenacity. With their remarkable performance, CSK emerged victorious, claiming their fifth IPL title. Dhoni's exceptional leadership skills and ability to inspire his team were once again on full display as he guided CSK to triumph, showcasing his unrivaled ability to bounce back from setbacks and lead his team to glory.
MSD's leadership and his knack for steering his teams to victory in high-pressure situations make him a true champion. His exceptional record of lifting multiple ICC and IPL trophies stands as a testament to his extraordinary leadership skills and indomitable spirit. As cricket fans, we celebrate the incredible achievements of MS Dhoni, a leader who left an indelible mark on the cricketing world.
Dhoni's achievements on the field, coupled with his humility and sportsmanship, make him a true legend and an inspiration to generations of cricketers. As we reminisce about his glorious career, we express our gratitude for the memories he has given us and wish him a very happy birthday.